DYNAMIC SOLUTIONS
As you rise to new challenges,
you have a partner in CME Tracker while navigating the changes!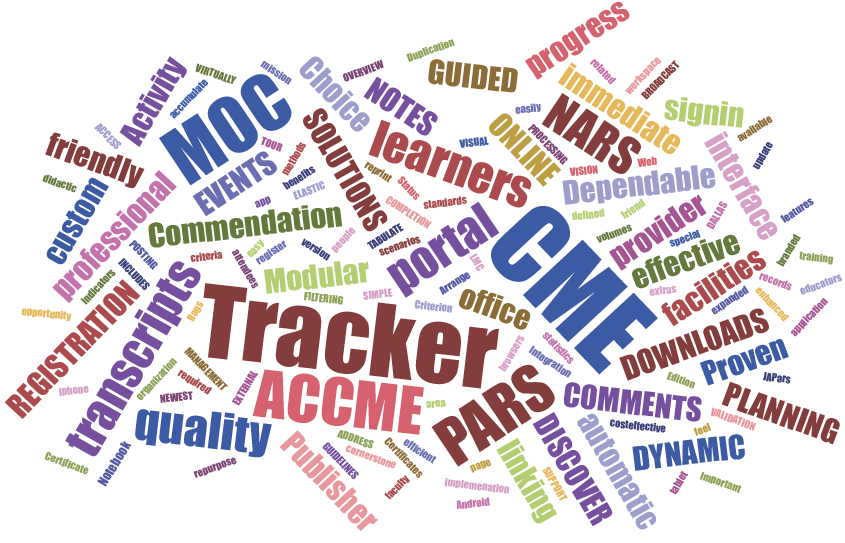 CME Tracker is designed with the busy CME professional, in mind. Organize the volumes of data that accumulate in the planning, implementation and tracking of Continuing Education events, credits, facilities, speakers, supporters and attendees. .
---
Staff Edition (Basic Features)
Robust tools for the staff who expects more from their data.
Activity Management:
Ability to duplicate all event information including attendance information for convenience, using the standard event duplicator.
Activity Accreditation:
Track and report on criteria for accreditation, re-accreditation and accreditation with commendation.
Speakers:
Collect information regarding each speaker's preferences and availabilities; have immediate access to topics related to the speaker.
Event Revenue/Expenses:
Financial Reporting for all revenue and expenses per event and by date ranges or groups of events. Ability to compare and contrast. Store both projected and actual revenues and expenses.
Reports/documents:
Registration reporting for all aspects of the meeting experience including Confirmation Letters, Sign in Sheets, Badges, Certificates, Tent Cards, Schedules, lists of credits earned. Hundreds of reports available for your immediate use.
Filtering Capabilities:
CME Web Tracker has a function for "Filtering" and saving filters so that data can be easily organized, sorted and re-called based on filters.
Custom Reporting:
CME Web Tracker Staff Edition uses Microsoft Word and Microsoft Excel for report building so that a knowledge of these products allows a user to build reports immediately. Quick PDF reports are always available too!
ACCME PARS/JA-PARS:
CME Web Tracker Staff Edition includes all PARS fields, along with guidance through the ACCME criteria, validation and processing of the spreadsheet required for submission. The web service for PARS is also available!
Sharing:
There is management and sharing of documents with all staff edition users. All can build, share and search databases. Filtering can be used on an individual or group basis.
Bar Code Scanning:
CME Web Tracker Staff Edition has bar code construction built in to the system. Registration/crediting via the bar code system is available for use with any type of activity.
Custom Interface:
Custom Interfaces for interaction with joint sponsors or various departments is an option to minimize data entry when interacting with others.
Badge In Interface:
Custom Interface to allow automatic badge in for your conference attendance.
Mailing List Organization:
List organization for email blasts which includes filtering for individuals by any criteria including events attended.
Notes, Flags, Comments And Completion Status
Each area has additional notes, flags & comments so you can easily tag records with visual and verbal indicators for more efficient collaboration.
Maintenance of Certification (MOC) and all CME Credit Reporting
Track all CME/MOC board information for each learner and each event for efficient CME/MOC reporting.
Attach Documents to Events and People
Attach documents for easy accessibility during review of your events.
Special Reporting (CPE Monitor, NARS, CE-Broker, etc.)
CME Tracker has a solution for every reporting need!
Analytics
Analytics to slice and dice your data in a variety of ways!
---
CME PUBLISHER (highlights)
Easy-going, friendly tools for learners who want to spend less time tracking their credits.
Learner Portal
Profile, Claim Credit, Activity Check In, Transcripts, Registration History, Past Certificates, Claim Credit, Outside Credits, My Curricula, Pay Invoice ... your choice of options available for the learner portal.

Online Certificate Processing:
With the Certificate module in place, the CME Office can define the online certificate process. Typically includes Login, evaluation, attestation and certificate.


E-Commerce:
E-Commerce ability enabling online registrations, credit card processing and financial activity reports is standard with your choice of hosted payment processor.


Online Transcripts:
Learners can define transcript date ranges and produce transcripts online for all activities attended.


Learner App:
Learners can access all info through the mobile application


Online Transcript Options For HR Or Other Departments:
CME Department can allow access to profiles for HR, managers, or other departments who would need access to a particular individual's transcript.


Online CME Integration:
Both Simple and Advanced methods of integration with online learning videos or other online learning mediums.


Fully Branded Online Presence:
Your online activity schedules, certificate, transcripts, profiles, etc. are all accessed from your CME Website and fully branded for a seamless user experience.


A CME Tracker Web Designer Is At Your Service With The CME Tracker Publisher Package:
a designer is at your disposal for the planning and implementation of your online presence.


Text-In Attendance
Learner Text-In Attendance gets the job done on the spot.


Various access options for your learners:
When designing your online pages for display of activity schedules, registration, etc., you have many options for user access including filtering options for the learner, "month at a glance" displays, activity catalog/listings. You may include one or all of the options for the richest user experience.


Numerous Distribution Possibilities:
Provides the ability to distribute activities through websites and other mediums.


Registration Flexibility:
With CME Web Publisher, web registration functionality is automatically displayed for live activities based upon each activities components.


Sharing Options For Social Networking:
Your course schedule can include sharing options for many social networking sites to drive your campaign to "go viral".


API Options
API available for external pages of your choice.